Granule dishwashers use tiny plastic or ceramic beads instead of water and detergent to clean dishes. The granules scrub away dirt and food particles, offering quick and efficient cleaning. They are faster, more energy-efficient, and environmentally friendly compared to traditional dishwashers.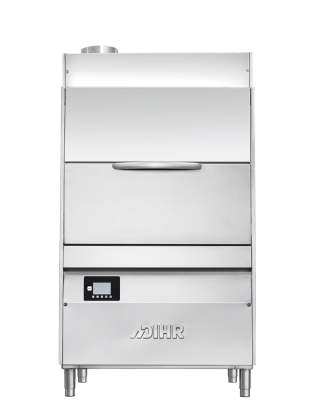 Why waste your time with soak and prewash when there are plenty of more useful things to be done in the kitchen? Consider giving a value to wasted hours and the amount of water and detergent used to moisten encrusted pans. Plus the time and effort to scrub, wash and dry them! The conclusion is easily deduced; it's a waste of time, energy and resources.
This is when the DIHR Granules Utensil Washers enters the scene. The abrasive power of the projected granules, mixed together with water and detergent, guarantee an excellent result in a few minutes wash. Even with the most tenaciously encrusted pans. A precious and necessary equipment designed to fulfil the needs of canteens, caterers, airports and restaurants' modern kitchens, giving the right value to time and money.

DIHR QUALITY PROCEDURE
Every machine regularly undergoes through 4 strict quality tests before being ready to be sold. The fully automized modern production plant ensures structured production processes and guarantee result of each single product. In order to provide our customers with the highest standards, DIHR has achieved 14 European patents and 11 international certifications such as ISO 9001, as well as the prestigious German and USA certification of "Quality and Performance".